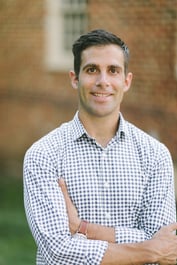 "InsideTracker is a great tool to assess your health. I ordered the Ultimate test to gain the most knowledge and get a clear picture of where my health is actually at. The information that I got back was amazing. Not only did it have my blood test results, InsideTracker provided action steps and recommendations to improve my health along with explaining what certain biomarkers are and reasons they may not be in the optimal range. I will continue to use InsideTracker to track my health and biomarkers and I can't recommend them enough."- Dr. Drew Jamison
Analyze. Optimize. Live Healthier.
Whether you are looking to increase your fitness or improve your overall health, InsideTracker is here to help.
InsideTracker is a revolutionary blood analytics platform that offers ultra-personalized and science-driven recommendations on:

Nutrition

Supplementation

Exercise

Check out our home page for more information about the program and process.
Interested in learning more? Tell us a bit about yourself, by filling out the form to the right, and our team will reach out with personalized information just for you.